Canon Vixia HF G10 Camcorder Review

Controls
Miscellaneous Controls (22.00)
Conversion Lens
When using a conversion lens (either tele or wide) with the HF G10, you can turn this setting on to optimize the autofocus and image stabilization settings to work in conjunction with the attached conversion lens.
Tele Macro
Hidden in the camcorder's onscreen zoom controls, a tele macro option automatically switches focus and zoom for up-close shooting.
Onscreen Markers
A variety of grid patterns can be displayed to assist with framing on the HF G10. This feature may be useless to home video shooters, but it is definitely a plus for pros.
Color Bars & Test Tone
Another feature that is likely to be ignored by non-professional users, Color Bars & Test Tone allow you to display... well, color bars and a test tone. You can use this for calibration, or for putting a marker on the beginning or end of your clip.
Auto Controls (10.47)
Exposure - There aren't quite as many exposure controls on the G10 as there are focus controls, but there's still quite a few. You can set the exposure in 1/4 EV increments from -3 to +3 values. There's also a zebra pattern setting to keep an eye on overexposure, an auto exposure lock feature (AE Lock), touch exposure with the touchscreen, and a waveform monitor.
We love all these options for basic exposure adjustment, but we don't like the implementation of the rear-mounted control dial that can be used to set the exposure controls. The dial is small and not nearly as precise as the large lens ring that is dedicated to focus (nor is it as good as the control dial found on the Canon HF S21). You can set exposure by tapping touchscreen buttons as well, and we may actually prefer this method to the tiny, hard-to-reach control dial on the back.
Color & Image Controls
Image Effects - There's no preset color modes in this setting anymore (presets have now taken the form of Cinema Modes -- see below), but the HF G10 does have four image effect options that can manually be increased or decreased. These include color depth, contrast, sharpness, and brightness. All of them have adjustment ranges from -2 to +2.
ND Filter - We talked about the ND filters a bit in the aperture section further up on this page. "ND" stands for Neutral Density and it essentially cuts the intensity of all light equally when activated. So a 1/8 ND filter would cut 1/8 of the light. ND filters are activated by adjusting the aperture.
x.v. Color - Allows the camcorder to record using the xvYCC expanded color gamut. You'll only be able to see the expanded colors if you view the footage on a compatible television.
Cinema Filters - This is one of the more interesting new features on the HF G10. There are 9 Cinema-Look filters on the camcorder when you switch over to Cinema mode. All of these filters (other than basic Cinema mode) have intensity levels of low, medium, and high. Regular Cinema mode allows you to set color depth (±2), contrast (±2), softening filter, and key lighting. The Cinema Filters include: Cool, Dramatic Black and White, Dream, Memory, Nostalgic, Old Movie, Sepia, and Vivid.
Zebra Pattern - Displays striped patterns on the screen to show areas of the frame that are overexposed. Can be set to 70% or 100% sensitivity levels and this option can be selected during aperture or shutter speed adjustment.
Audio Controls (7.00)
The HF G10 has some nifty audio features that are usually reserved for professional camcorders. Some of these controls include frequency response and microphone directionality control with the built-in mic, as well as audio mix options with the external mic jack. There's a wind cut feature, a microphone attenuator, and manual audio level adjustment as well.
The frequency response controls allow you to boost or cut the low frequency range, boost the mid frequency range, or boost both frequency ranges. The mic directionality controls can be set to mono, normal, wide, or zoom. Both of these features are something Canon has not included on its consumer camcorders before, so it is a pleasant addition that should make audiophiles happy.
The built-in mic records 2-channel stereo and the placement of the mic is decent (it's on the top of the camcorder). You may accidentally rub against the mic when you use the lens ring, but you should be able to keep away if you're careful. The external mic jack is unprotected on the right side of the camcorder, which is one of the few gripes we have with the G10's audio features.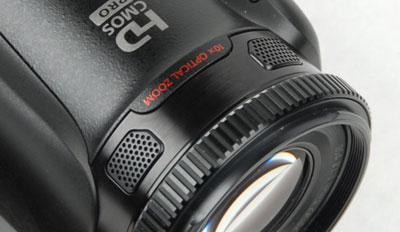 Editing (7.00)
The HF G10 comes with Pixela Video Browser, but we couldn't determine if the software has been updated over last year's version. Canon was unable to furnish us with the software expected to ship with the HF G10, so, for now, you can read about the previous version of Pixela Video Browser that came with last year's models by checking out our article article: "Video Editing Software For Your Camcorder. For an overview of the software that ships with this and other camcorders, see our article: Video Editing Software For Your CamcorderCanon-Included-Software.htm.
As for internal editing components, the HF G10 actually has quite a few. There's a decoration function that allows you to add titles, displays, or even draw on your recorded image (by dragging your finger all over the LCD). In addition to this, there's an HD to SD down-conversion option that you can use as long as you have a memory card inserted in the camcorder.