Canon Vixia HF G10 Camcorder Review

Sharpness Performance
Video Sharpness (11.32)
Sharpness was an area where the HF G10 couldn't quite match the results of its predecessor, the HF S21. However, even though Canon reduced the pixel count significantly on the HF G10, the camcorder only lost a bit of sharpness compared to its predecessor. We measured the sharpness levels on the G10 at 850 lw/ph horizontal and 600 lw/ph vertical. These numbers aren't too shabby, particularly with all the image sensor tinkering that Canon initiated on the HF G10. This is very good news for Canon, and, as you'll see in the next section, the HF G10 offers a superb low light performance in exchange for its slight drop in sharpness. More on how we test video sharpness.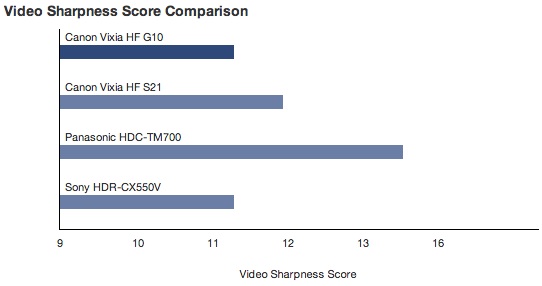 Stabilization (6.26)
The Canon HF G10 put up very similar numbers to its predecessor in our stabilization test. This shouldn't be much of a surprise, as the HF G10 is equipped with the same optical image stabilization options as the HF S21 before it. The hard numbers for those who are interested: the G10 reduced 42% of the shake in our low shake test and 32% of the shake in our high shake test when using its optical image stabilization.
The G10 does have a dynamic stabilization mode and a powered IS setting, but neither of them helped out too much in our low shake test. Dynamic mode reduced 37% of the shake and powered IS reduced 44% in the low shake test. Strangely, in the high shake test, the powered IS did a very bad job—reducing the shake by just 18%. What this tells us is that Canon's basic OIS should get the job done fine. You don't really have to use the other modes unless you notice them helping for your specific shooting situation. More on how we test stabilization.