GoPro HD Hero2 Camcorder Review
Better than
29%
of Reviewed Camcorders

Ease of Use
Auto Mode
The Hero2 doesn't have a normal set of manual controls, and focus is not adjustable with the fixed lens, so any recordings are essentially captured in auto mode. The camcorder exposed images very well under natural outdoor light, but it had problems in mixed-light situations. Using center-weighted exposure control, the camcorder often overexposed the brightest portions of the frame when the light wasn't even. This means windows and lights would look blown-out, but at least the camcorder didn't make the rest of the frame too dark (we'd rather have some blown-out portions and a usable image than an image that is just too dark all around).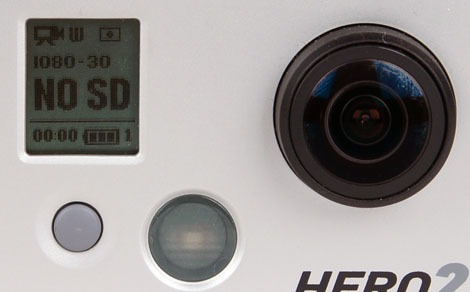 Auto Controls
Moving outdoors to brighter light, the camcorder acted quickly in adjusting exposure. There were moments of white flashes as the exposure changed, but the Hero2 compensated for the brighter light in less than a second. And, like we said, under consistent outdoor lighting the exposure levels looked great. Focus wasn't an issue due to the camcorder's fixed lens (no focal adjustments made), and we found subjects that were as close as a foot or so from the lens still appeared in focus.
Menus
The Hero2 has more settings than we anticipated for a compact, hands-free camcorder, and these settings are adjusted using a two-button system on the front and top of the camcorder. There's also a tiny LCD display that lets you navigate the menu and controls, cycling through each with a click of the button. It's clearly not the best or easiest menu system to go through, and we were frustrated by it at times. Since each push of the front button just cycles through options, it's easy to miss the setting your looking for... which means you have to cycle through everything again. It kind of feels like you're working with a digital watch, and we all know how frustrating that can be.