GoPro HD Hero2 Camcorder Review
Better than
29%
of Reviewed Camcorders

Recording Options
Compression
The GoPro HD Hero2 uses the H.264 codec to compress video using the MPEG-4 file format. This is the same compression system used by many ultracompact camcorders, and it is different than the AVCHD compression utilized on more traditional HD camcorders. The MP4 files can simply be dragged and dropped from a memory card onto a computer and played directly in a media player without requiring any kind of conversion (the same can't always be said about AVCHD). Read more about the advantages and disadvantages of various high definition compression types.
Media
The memory card slot on the side of the Hero2 fits SD or SDHC memory cards (up to 32GB in size). GoPro recommends using a card speed class four or higher, and for certain recordings (like the time-lapse function) higher-speed cards may be necessary. We like that GoPro uses SDHC cards, as they are easy to obtain and are fairly inexpensive—especially compared to the MicroSD cards used by Contour on its camcorders. Read more about the advantages and disadvantages of various media types.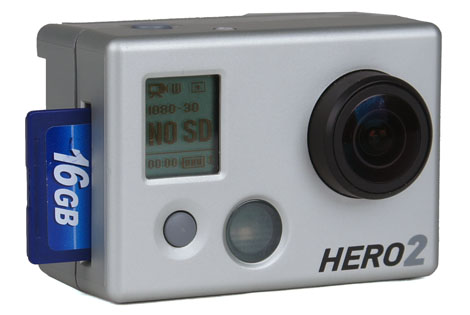 Resolution & Frame Rates
In terms of the amount of frame rates and resolutions offered for recording, the Hero2 runs circles around the Contour+ camcorder. GoPro includes one Full HD record mode on the Hero2 (a 1920 x 1080 resolution with a 30p frame rate), two 1280 x 960 modes (at 48fps or 30p), two 1280 x 720 options (at 60p and 30p), and two standard definition record modes (an 848 x 480 resolution).
Slow Motion Modes
To top it all off, one of the two standard definition modes on the Hero2 is a 120fps slow motion mode (the other SD mode records using a 60p frame rate). A 120fps mode won't produce wildly slow motion effects, but it should produce video that looks about half speed compared to 60p during playback.
Still Features
Still photos can be captured at three resolutions on the GoPro Hero2: 11 megapixels, 8 megapixels, and 5 megapixels. In addition to those three resolution options, there's also a self-timer setting and a 10 photo burst option for taking photos in quick succession. The camcorder's time-lapse record function also makes use of photos by capturing a single image at a previously selected time interval.