GoPro Hero3: Black Edition Camcorder Review
$399.99
Better than
61%
of Reviewed Camcorders
Recording Options
Compression
The Hero3: Black Edition uses the H.264 codec to encode videos, and it saves these files in the .mp4 file format. The camcorder mostly offers HD recording options, but there is one standard definition mode that is used to capture 240fps video that is ideal for turning into slow motion video in post production.
Another key feature is the Hero3's new Protune mode, which allows the camcorder to use higher bitrates when recording video in order to get better quality images. According to GoPro, the Protune mode not only uses higher recording bitrates, but it also captures video using a neutral color profile that gives the user more color-correcting power in post production. The Protune mode can be turned on and off in the Hero3's menu system, but the camcorder's two 4K modes require Protune to be engaged. Read more about the advantages and disadvantages of various high definition compression types.
Media
GoPro made the switch that we all assumed was coming: the Hero3 records video to MicroSD memory cards instead of regular SD cards. This change was probably a necessity in order to cut down the size of the Hero3, but it's something we don't appreciate. MicroSD cards are so small that they're easy to lose, easy to break, and aren't as easy to find in stores. They also tend to be more expensive than regular SD cards, although this may be changing now that MicroSD becomes a more popular form of media. Besides the difference in size, there really isn't much of a difference between MicroSD and SD, so the workflow involved with using the cards is basically identical. Read more about the advantages and disadvantages of various media types.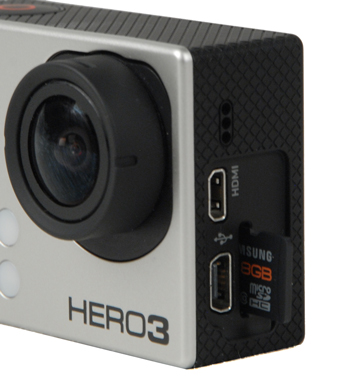 Resolution & Frame Rates
There are a ton of record modes on the Hero3, possibly too many for some users. In addition to recording standard 1080p and 720p HD video, the Hero3: Black Edition has options for recording 4K Ultra HD and 2.7K video. These modes produce video at a much higher resolution than regular HD content, but they come with plenty of caveats. First of all, most people don't have televisions or monitors capable of displaying video at a higher resolution than 1920 x 1080. This makes shooting 4K somewhat useless, as there aren't many ways to harness the full potential of the setting.
The Hero3 also limits the frame rate for 4K recording to 15fps or 12fps, depending on the mode being used. These frame rates are too low to produce smooth motion, which means you wouldn't want to use these settings to capture high-speed action sequences. The 2.7K settings do allow for more motion-friendly frame rates of 24fps and 30fps. In regular 1080p HD mode the Hero3 has options for 60, 48, 30, or 24fps recording, giving you far more flexibility when shooting video.
Another thing to note: the 4K and 2.7K recording options are only available on the Black Edition of the Hero3. The Silver and White Editions both top out with 1080p HD recording.
Slow Motion Modes
Like the Contour+2, the Hero3: Black Edition has a few high-speed record modes, but these settings don't produce slow motion in-camera. You have to take the recorded footage and slow it down using an editing program in order to get the slow motion effect. If A GoPro rep or salesperson told you the Hero3 can do slow motion, they were lying. Kinda.
The camcorder's highest frame rate option is a 240fps mode that shoots standard-definition video at an 848 x 480 resolution. This setting is labeled as WVGA in the camcorder's menu, and, like we said, the videos shot in this mode won't appear any slower unless you alter them using post-production software. Additionally, the Black Edition of the Hero3 can shoot 720p HD video at 120fps.
The Hero3: White Edition has none of these high-speed record modes, but the Silver Edition includes a single 120fps slow motion mode for standard-definition video. All versions of the Hero3 camcorders offer time-lapse photo modes that take photos at various intervals.
Still Features
The Hero3: Black Edition is loaded with a good number of useful photography options. The camcorder can take photos in three resolutions—12, 7, or 5 megapixels—with two additional options for switching between wide (16:9) or medium (4:3) aspect ratios. Photos can be captured during video, albeit with some limitations (e.g. photos are limited to 8 megapixels during 1080/30p recording). You can burst shoot up to 30 photos per second, the camcorder has three continuous photo modes (2, 5, or 10 photos per second), and there's a time-lapse mode that can shoot at 1/2, 1, 2 , 510, 30, or 60 second intervals.
The Silver and White Edition of the Hero3 camcorders have far more limited photo features, with neither camcorder offering the ability to take still photos during recording. The Silver Edition tops out with an 11-megapixel still image resolution, while the White Edition takes a maximum of 5-megapixel photos.