JVC GZ-GX1 Camcorder Review
Better than
73%
of Reviewed Camcorders

Recording Options
Compression
The GZ-GX1 utilizes the AVCHD 2.0 compression system to record 60p video clips using the MPEG-4 codec. The camcorder can also shoot 60i footage also using AVCHD compression (and with four different quality setting options). There's still a lot of difficulty in getting 1080/60p footage to work with most editing systems, although more workarounds are being developed every week. If you plan to edit footage you shot with the GX1 make sure you have a system that can handle 1080/60p (or plan on shooting with the 60i mode instead). Read more about the advantages and disadvantages of various high definition compression types.
Media
JVC doesn't include any internal memory on the GZ-GX1, which is unusual for a flagship camcorder. This does keep the cost of the camcorder down, but it forces you to purchase an SDHC memory card if you don't already have one. Thankfully, 16GB and 32GB SDHC cards aren't that expensive these days, so you should be able to find an adequate one for anywhere between $10 - $45 bucks. A lot of people make a big deal about memory card speed classes, but we've found anything rated Class 6 or above works fine for shooting HD video. Read more about the advantages and disadvantages of various media types.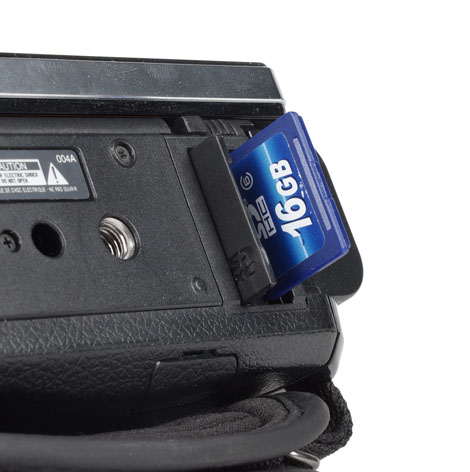 Resolution & Frame Rates
The single 1080/60p record mode on the camcorder is the GX1's highest-quality mode, recording at a bitrate of 28Mbps. For 60i recording, the camcorder offers four quality settings, which are detailed in the table below. There are no standard definition recording options on the camcorder, other than the low-quality high-speed record mode.
Slow Motion Modes
The high speed record mode captures a 960 x 480 video image using a 300fps frame rate, which ends up making video that is five times slower than the camcorder's regular record modes. This is the only standard definition recording option on the camcorder, which is strange considering the ability to record regular SD video is a feature found on JVC's lower-end Everio camcorders (like the VX700).
There's also a time lapse record mode on the GX1 that lets you capture one frame of video at a selected interval of time (from 1 - 80 seconds).
Still Features
While other manufacturers, mainly Canon, have started to limit the amount of still image features on its consumer camcorders, JVC has gone in the opposite direction—it keeps loading more photography controls onto its Everio camcorders. Just looking at the GZ-GX1's still image specs, you may think we're talking about a point-and-shoot camera instead of a video camcorder.
The GX1 has a maximum still image size option of 3968 x 2976 (11.8 megapixels) as well four other size options in addition (going all the way down to a small of 640 x 480). Photos can be captured during video recording and stills can be pulled from recorded videos, but you get more photo options when you switch to the GX1's dedicated photo mode.
The GZ-GX1 even has a continuous shooting mode with three different speed levels (low, medium, and high), as well as a self-timer setting and a built-in flash. Finally, JVC has equipped the camcorder with a smile shot function that will snap a photo when a smile is detected within the frame. JVC must take great pride in this feature, as it is one of the few functions that appears on the first menu page when you hit the menu button on the camcorder.