Panasonic HC-V500M Camcorder Review
Better than
78%
of Reviewed Camcorders

Recording Options
Compression
Panasonic has equipped the HC-V500M with AVCHD 2.0 compatibility, which allows the camcorder to record Full HD video using a 60p frame rate. You can still record regular 60i video as well, which should be your option of choice if you plan on editing video using post-production software (most editing programs still struggle with 1080/60p video). Panasonic also includes an iFrame record mode, which does not record at an HD resolution, that is designed for seamless transition to Apple's iMovie editing software. It's an easier format to work with and it won't be as taxing on your computer as AVCHD. Read more about the advantages and disadvantages of various high definition compression types.
Media
The V500M has 16GB of internal memory and a memory card slot that works with SD, SDHC, and SDXC memory cards. Read more about the advantages and disadvantages of various media types.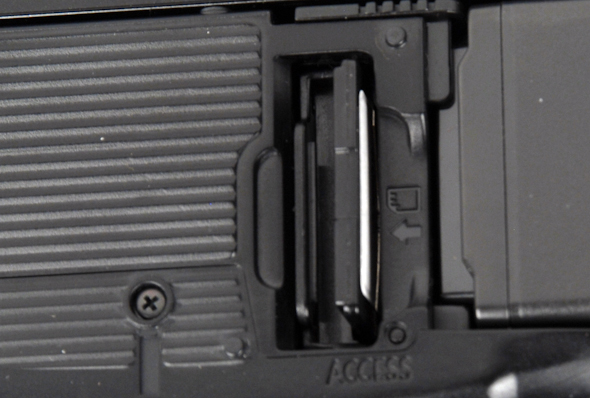 Resolution & Frame Rates
Full HD video is defined as video with a 1920 x 1080 resolution. This translates to about 2 megapixels, so, in a way, Panasonic is cheating when it claims the HC-V500M records a Full HD image. The camcorder's sensor is only 1.5 megapixels, and in order to get to a Full HD image the V500M interpolates the video. That is, the camcorder is creating a 1920 x 1080 video that is comprised of just 1.5-megapixels. It's just like if you took a small photo and resized it into a larger image in Photoshop. The actual image gets bigger, but there's no extra detail.
Despite this interpolation, the HC-V500M did a decent job on our video performance tests. It's also worth noting that most camcorders in this price range use small sensors with low effective pixel counts. So Panasonic isn't alone in this practice.
Still Features
If you're looking for a true photo/video hybrid device, then the HC-V500M isn't for you. The camcorder does have some limited still image options, however. Photo size options range from 640 x 480 images all the way up to 2304 x 1296 resolution. Remember, however, with these 3-megapixel photos, like the camcorder's Full HD videos, the V500M is using interpolation to get that size. The camcorder also offers photos in three different aspect ratios (4:3, 3:2, 16:9), as well as a continuous shooting mode, self timer, and smile shutter feature. Additionally, the video light can function as a built-in flash when you take photos.