Panasonic HC-V700 Camcorder Review
Better than
85%
of Reviewed Camcorders

Ease of Use
Auto Mode
Central to the VC700's user interface is the camcorder's dedicated auto mode, called Intelligent Auto (iA). The mode is engaged by pressing the small button on the top of the camcorder, and, when engaged, the V700 displays a shorter menu system that locks the user out of adjusting most manual controls (focus, shutter speed, aperture, gain, and white balance). The mode works justifiably well, although some may prefer a simpler dedicated auto mode that locks you out of even more controls.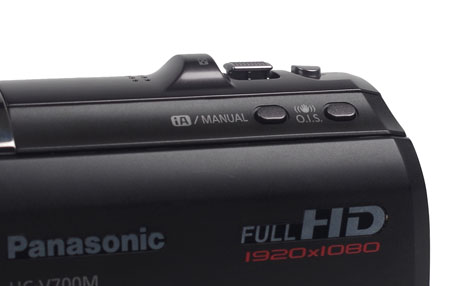 Auto Controls
The smooth exposure and focus adjustments on the HC-V700 are among the camcorder's best assets in auto mode. We rarely noticed a situation where the V700 struggled to accommodate for changes in light levels and focal distances. The auto white balance was not quite on the same level, however, as the camcorder often needed a few seconds to calibrate properly under new lighting conditions.
If you're into scene modes, the HC-V700 has twelve different settings to choose from. There's also a dedicated low light mode called Color Night Record that will get you a bright image with just one lux of illumination. Color Night Record will destroy the quality of your video, though, as the mode boosts gain and uses extremely slow shutter speeds to obtain a bright image in dark scenes.
The camcorder is also loaded with zoom options. The optical zoom for the camcorder is listed at 21x, but the camcorder's Intelligent Zoom goes up to 46x. According to Panasonic, this extra zoom is obtained without any loss of image quality, but it's still using digital processes to get that extra zoom (it's not just optics). There's also a full-fledged digital zoom on the camcorder that goes up to a whopping 1500x (and turns your video into grainy muck in the process).
Other Auto Features
Extra auto controls include a backlight compensation feature, Intelligent Contrast mode, and a shooting guide. Intelligent Contrast doesn't do much, but it adds subtle changes to your video, often enhancing the look of scenes shot under mixed lighting. The shooting guide is more annoying than helpful, as it displays warnings on the LCD when you are panning too quickly or doing anything else the V700 deems as unacceptable. Maybe some will find it helpful, but most will find it silly.
Menus
The V700's menu will appeal to people who like big icons, large text, and simple layouts. It's not going to win any design awards, and it certainly looks dated, but it is easy to read and understand. Let's be clear, this isn't a slick menu by any means. You navigate not with fancy swipes or gestures, but by tapping up and down arrows to flip through menu pages.
The icon-based function menu, which is available on the left side of the LCD even during video recording, is more difficult to use. You need to be familiar with what the icons mean in order to access the features you're looking for, and the navigation system relies on very small buttons. It is the same system Panasonic has used for a few years now, and we think it's time for an update.