Panasonic HC-X900 Camcorder Review
$1,199.00
Better than
94%
of Reviewed Camcorders

Controls
Manual Focus
Panasonic is one of the few manufacturers that puts a large lens ring on its flagship consumer camcorders. This makes the HC-X900M (and previous Panasonic flagships) probably the best camcorder in terms of manual focus control. The lens ring makes focusing fun again, and you will understand this instantly when you use the manual focus option on the HC-X900M. Using the lens ring is infinitely better than adjusting focus by pressing buttons on a touchscreen, or moving a joystick up and down.
Canon (HF G10) and Sony (HDR-CX700V) do use control dials on their flagship models that also offer precise focus control, but the Panasonic HC-X900M's lens ring has the edge. We also found Panasonic's simple focus assist peaking feature to be helpful when trying to attain a crisp focus, and we like that there aren't too many settings or options to make the focus assist control more confusing.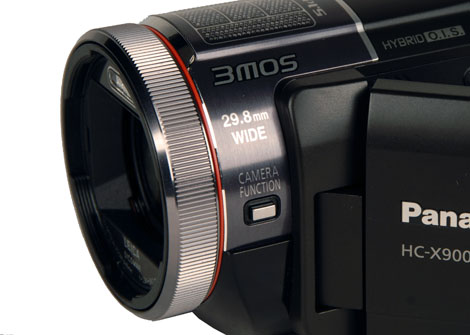 Manual Exposure
If you like having a slew of manual controls at your disposal, then you've come to the right place. The HC-X900M boasts full manual control over aperture (iris) and shutter speed, and it has a limited gain control that is tied to the aperture setting (yeah, we know it's strange). All these controls can be set using the lens ring or by tapping buttons that appear on the LCD when you select these exposure options from the menu. As an added bonus for pro-level videographers, Panasonic has included a zebra pattern function that helps you spot overexposed areas of the frame, as well as a histogram and luminance meter.
Our only problem is the fact that gain control is tied to the aperture setting on the HC-X900M. This has always been an issue with Panasonic camcorders and we've never liked it. How does this affect you and your ability to record a solid image with the X900M? Well, it limits the amount you can play around with depth of field, as there's no way to boost the gain without opening the aperture all the way on the camcorder. So, there's no closing up the aperture in low light situations—you'll just end up with a dark image without the ability to boost the gain.
If you don't want to delve into the complexity of aperture, shutter speed, and gain control, you can still adjust basic exposure on the X900M using simple EV adjustments. The problem is this feature is buried in the camcorder's menu and there's no way to access it easily. If you look hard enough you will find it, though. Hint: it's inside the "Picture Effects" submenu, along with sharpness, color saturation, and color temperature adjustment.
Miscellaneous Controls
The camcorder has full white balance controls, including a few presets, a manual option, and an automatic WB mode. In the Picture Effects submenu you can also find a WB adjustment option that acts as a color temperature control (for manual tweaks to the white balance). In the same menu are also color saturation controls, sharpness controls, and basic exposure controls. We love these options, and we wish Panasonic would make them easier to access.
Digital Cinema Color
This is the X900M's enhanced color recording option that lets the camcorder capture colors using the xvYCC spectrum. It's a wider color spectrum, but the feature only works if you view your videos on a compatible television. Don't expect the results to blow you away.
Guidelines
There's a few different grid line options on the HC-X900 that provide assistance when framing your video. The lines don't appear on your final video, they're just there to help you frame, and you can turn them on and off in the menu system.
Auto Ground Standby
One of the camcorder's most "gimmicky" controls is AGS, which stands for Auto Ground Standby. This feature, which Panasonic has included for years, will automatically turn the camcorder off if it detects the lens pointing to the ground for more than a few seconds. Yes, it is designed to prevent "accidental recordings" when you're holding the camcorder at your side. Is it really that hard to remember to stop your video recordings when you're done shooting?
Tele Macro
Tele macro mode lets you focus on ultra close subjects using the HC-X900's full optical zoom. This is a feature almost every camcorder has, so it's not anything out of the ordinary. It simply shifts the camcorder's focal range to accommodate for very close subjects.
Auto Controls
Besides the dedicated auto mode, the X900M is equipped with a number of automatic controls and features. There's the autofocus/exposure tracking feature, 11 scene modes, face detection, an auto slow shutter, and an auto backlight correction. None of these auto features are anything new, however, as they were all found on last year's HDC-TM900 camcorder from Panasonic.
We'd also like to briefly touch upon the HC-X900M's zoom capabilities for a moment. Panasonic included many ways to say "I want to zoom you" on the X900M, which can't really be considered a bad thing. You can zoom with the top-mounted toggle (the traditional way), you can zoom with the lens ring (in auto mode), or you can zoom with touch buttons on the LCD (there's two different sets of these). That's a lot of different ways to do the same thing.
Audio Controls
The X900M's 5.1-channel surround sound mic is prominently displayed on the top of the camcorder, just like it has been on previous high-end models from Panasonic. This robust mic is definitely something special, but we don't like how close our pinky came to touching the back end of the mic when we gripped the X900 in our hand. If you have smaller hands, this won't be an issue, but if your fingers are large, you'll need to watch yourself. Or you can connect an external mic into the X900M's 3.5mm mic jack and you can forget about using the built-in microphone. There's also a number of manual audio controls and features on the camcorder as well, including bass control, wind cut, and an audio level adjustment option.