Panasonic HC-X900 Camcorder Review
$1,199.00
Better than
94%
of Reviewed Camcorders

Ease of Use
Auto Mode
The Panasonic HC-X900M seems like a camcorder that is meant to be controlled manually. It does have a large lens ring, after all, and its set of manual options is certainly extensive. But there is a dedicated auto mode available, and it is essentially the same mode Panasonic has used on its camcorders for a couple of years now. It's called Intelligent Auto (iA), and the mode is activated by hitting the iA/Manual button on the left side of the camcorder. The button is small, so you need to read the label carefully. Why do manufacturers insist on making these auto mode buttons so hard to find?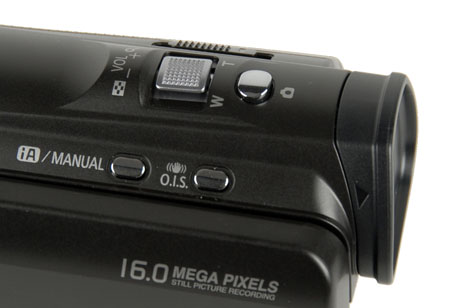 Auto Controls
Besides the dedicated auto mode, the X900M is equipped with a number of automatic controls and features. There's the autofocus/exposure tracking feature, 11 scene modes, face detection, an auto slow shutter, and an auto backlight correction. None of these auto features are anything new, however, as they were all found on last year's HDC-TM900 camcorder from Panasonic.
We'd also like to briefly touch upon the HC-X900M's zoom capabilities for a moment. Panasonic included many ways to say "I want to zoom you" on the X900M, which can't really be considered a bad thing. You can zoom with the top-mounted toggle (the traditional way), you can zoom with the lens ring (in auto mode), or you can zoom with touch buttons on the LCD (there's two different sets of these). That's a lot of different ways to do the same thing.
Other Auto Features
Digging through the menu system on the X900M you will notice even more automatic features. There's Intelligent Contrast, which attempts to boost dynamic range to make videos with lots of shadows look better, and there's a low light mode called Color Night Record. Both of these features have been found on Panasonic camcorders for years, so they're nothing new (like most of the X900M's features).
Menus
Panasonic did make a slight update to the HC-X900M's menu system compared to last year's TM900. There's a new main menu screen that shows large icons rather than a list of submenus. It's not a significant change, but the visualization of the large icons—a camcorder for recording options, a camera for still image controls, a memory card for media options, and a wrench for system setup functions—does help people understand what controls and features are located where.
Like previous Panasonic camcorders, the HC-X900 has a Quick Menu feature that brings up a set of popular controls directly on the LCD for quick adjustment. Options in the quick menu include recording size, still image size, LCD brightness, grid lines, audio controls, manual focus, zebra patterns, luminance meter, and histogram. We love the idea of the Quick Menu, but we were frustrated by the confusing icons that the menu uses. Luckily, the camcorder has an "info" button that will tell you what each menu option does, but this is an extra step we would prefer not having to use.