Panasonic HC-X900 Camcorder Review
$1,199.00
Better than
94%
of Reviewed Camcorders

Sharpness Performance
Video Sharpness (13.72)
Thanks to its ungodly 1080/60p record mode, the Panasonic HC-X900M is able to run circles around the competition in terms of sharpness. Simply put, this camcorder's 60p mode produced the sharpest video we've ever seen from a consumer model—although the footage from last year's Panasonic TM900 was nearly as sharp. The camcorder managed a whopping 1000 lw/ph in our horizontal sharpness test and 950 lw/ph in our vertical test. Those represent a slight nudge of an improvement over the previous TM900, which is odd considering the X900M actually has a lower effective pixel count than its predecessor.
Shooting video using the HC-X900M's regular 60i frame rate will result in video that is far less sharp than what we described above. The lw/ph dropped significantly in these modes do to a combination of lower bitrate and the fact that interlaced recording simply isn't as sharp as progressive video. If you want the best quality from your HC-X900M, you should shoot with the 1080/60p mode when you can. More on how we test video sharpness.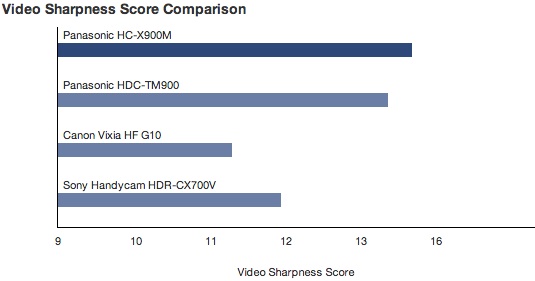 Stabilization (12.32)
Panasonic flagship camcorders have some of the best stabilization features we've seen on consumer models. The HC-X900M continues in this tradition with a killer performance in this test. At its best, the camcorder was able to reduce 83% of the shake with our stabilization rig set on its lowest setting (similar to shooting with a shaky hand). With the rig cranked up to its higher setting, the camcorder's OIS system was still able to reduce the shake by 78%. More on how we test stabilization.
Both of these numbers were achieved using the X900M's Hybrid OIS setting, which is the stronger of its two OIS options. With the regular OIS, the camcorder did nearly as well. It reduced 77% of the shake in our low shake test and 72% of the shake in our high shake test—so either OIS setting will give you a top-notch stabilization performance.