Samsung HMX-W300 Waterproof Camcorder Review
Better than
27%
of Reviewed Camcorders

Handling
Handling & Portability
Samsung's design alterations to the HMX-W300 are slight compared to its predecessor, so if you've handled an HMX-W200 before then you'll be familiar with the W300 as well. We like the durable body design of the camcorder overall, and we found the sides of the W300 were a bit easier to grip than that of the W200 before it. Still, this design is not perfect, and we'd like to see even better grip for a camcorder that is meant to be used underwater.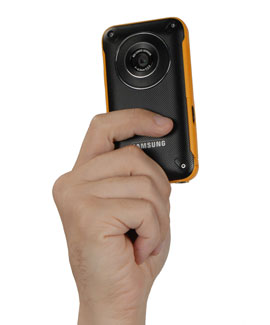 Samsung did make some changes to the button design, and if you look at the back of the W300 you'll see it all of its buttons are covered by a layer of plastic. We call these "membrane" buttons because the actual button exists below the surface of the camcorder's plastic "skin". This design doesn't make the buttons easier to work, but it does help keep water, sand, and debris out of those little crevasses that surround traditional buttons.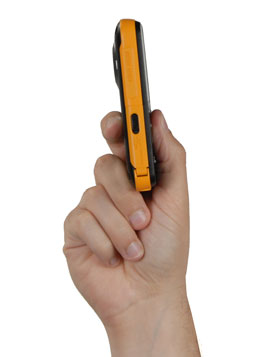 While the new button design does do a good job to keep water astray, the HMX-W300's port covers are a bit too vulnerable for our taste. The port covers keep the water out, let's be clear about that, but the locking mechanisms on the two covers are less than ideal. Both covers have no secondary lock function, which means if you accidentally slide your finger over the lock tab the covers will immediately pop open. This is easier to do than it sounds, and one accidental slip of the finger underwater could result in a damaged camcorder—as well as the loss of your video footage.
On the off chance that you'll be using the HMX-W300 with a tripod, you shouldn't expect the camcorder to mount perfectly. The off-center tripod mount on the base of the W300 may result in severe tilting when mounted to a tripod plate, as was the case during much of our testing. It's not a problem you can't solve, a simple rotation of the horizontal tripod head can correct for this tilt, but it may be more of an issue on very simple tripods that don't have multiple adjustment options. The off-center tripod mount, as well as the W300's rounded bottom do make it difficult for the camcorder to stand upright on its own as well. You can get it to stand alone without assistance, but it's literally a balancing act.
Battery Life
We were able to record continuously with the HMX-W300 for 112 minutes on a fully-charged battery pack. That's not bad for a camcorder with a non-removable battery, but it is around nine minutes shorter than the W200 lasted in our battery life test. Despite this good battery result for the W300, keep in mind that this camcorder does not have the ability to change batteries. The pack is non-removable and is rechargeable via USB only. So, if you're planning to shoot with the W300 for a few days without charging in between... you may want to rethink your schedule. More on how we test battery life.
Changing the battery on your camera or camcorder is something most of us are familiar with, but you shouldn't expect to be able to do it on the HMX-W300. Because of its waterproof construction, Samsung locked away the battery compartment so it is not accessible unless you completely dismantle the camcorder. In other words, if you're having battery trouble you'll probably have to get a whole new camcorder.
LCD
On the back of the W300 is a stationary screen for viewing your video clips and framing your content, but there's nothing special about the specs of this LCD. It's a small 2.3-inch screen with a limited resolution of just 230,000 pixels. Those numbers are consistent with other camcorders in this price range, but that doesn't mean they're worth applauding. It's simply not a great screen. Samsung does offer brightness control for the LCD, however, but there are only two settings (bright and normal), so even that function is very limited.
Stabilization
If you look through the W300's menu system, you'll find the camcorder's image stabilization setting under the heading "Anti-Shake (DIS)". Unfortunately, the setting barely did anything to help stabilize the video in our test. We did see some improvement in our high shake test, but our low shake test showed no difference with the anti-shake system on vs. off. Overall, we can't say this feature is all that great, so don't make your purchase just because you read the W300 has a digital image stabilization setting. It's not a feature worth praising. More on how we test stabilization.