Samsung HMX-W300 Waterproof Camcorder Review
Better than
27%
of Reviewed Camcorders

Recording Options
Compression
The Samsung HMX-W300 records Full HD video, that's a 1920 x 1080 resolution, and it does so by using the H.264 MPEG-4 compression system. MPEG-4 is the standard compression for most consumer camcorders, but the W300's clips are not AVCHD compliant, which is what you see from higher-end consumer models. This means the video files captured by the camcorder are easier to work with and less will be less taxing on your computer, but the W300's videos are likely to show more compression artifacting than AVCHD models. Read more about the advantages and disadvantages of various high definition compression types.
Media
On the left side of the camcorder, behind the locking port cover, there is a MicroSD memory card slot. This tiny slot fits all types of MicroSD cards, which include MicroSDHC and MicroSDXC memory cards. MicroSD cards work the same way as regular SD cards, but they're about a quarter of the size. This makes them easier to lose, break, and harder to find in stores than regular-sized SD cards (which are already as small as a postage stamp). If you can't tell already, we aren't huge fans of MicroSD cards, and we'd rather have Samsung make the W300 a bit larger if it meant the presence of a regular-sized SD card slot. Read more about the advantages and disadvantages of various media types.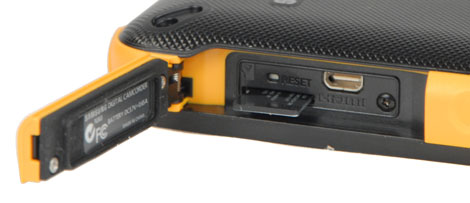 Resolution & Frame Rates
In addition to the Full HD recording option, the HMX-W300 has a 720p HD video mode. This setting still records high definition video, but the clips are smaller in both resolution and file size. So, if you don't care about quality all that much, you may want to shoot using this setting. You'll be able to fit more video on your memory cards and the files will be easier to playback on a computer.
We should note that if you attempt to record very large video clips with the W300, the camcorder may automatically split your videos up into smaller clips. We found the camcorder usually created a new clip every 16 minutes of straight recording, but this wasn't universal (sometimes it went for 15:59 and once it went to 16:29). Either way, you don't lose any video when a new clips is created, one picks up where the other one leaves off.
Still Features
There are four different photo size options on the HMX-W300, but you must be in the camcorder's still image mode to make use of them (you can't take photos during video recording). The size options top out with a 5.5-megapixel photo option (2720 x 2040 resolution), followed by 3-megapixel, 2-megapixel, and VGA (640 x 480) size options. Honestly, this isn't a bad range of sizes for the little camcorder, but you still shouldn't expect to shoot stellar photos with the W300. The camera on your Smartphone (if you have one) is probably just as good if not better than this—although the W300 is waterproof in still image mode as well as video mode, remember.