Sony HDR-CX700V Camcorder Review

Low Light Performance
Low Light Sensitivity
We had hoped Sony's updates to the HDR-CX700V would result in improved low light sensitivity on the camcorder, but, alas, it did not. The CX700V needed 40 lux of light to hit 50 IRE on our waveform monitor—an amount of light that is just one lux less than last year's CX550V needed to reach the same levels. This is a disappointing low light sensitivity performance, particularly when compared to the stellar results we got from the Canon HF G10 and Panasonic HDC-TM900 earlier this year.
Since the CX700 has such a wide angle lens, we also tested the camcorder's sensitivity using no optical zoom so we could see how much a fully-opened aperture would enhance its low light sensitivity. The results were much better without zoom, as the CX700V needed just 12 lux of light to peak at 50 IRE. Again, however, this represents no improvement over last year's high-end cam from Sony. The point we want you to take away from this is that using too much zoom in low light will drastically reduce the brightness of the image from the CX700V. The same thing goes with most consumer camcorders these days, which is why we now test models with and without using zoom for this test. More on how we test low light sensitivity.
Sony did incorporate a 24p mode for the first time on the HDR-CX700V, and we tested the camcorder's sensitivity using that frame rate as well. 24p mode produced a bit of a boost: the camcorder needed 31 lux of light to record a viable image (with zoom). This is an improvement of 9 lux over the CX700V's performance with its 60i frame rate. It is definitely significant, but a low light sensitivity score of 31 lux is still very bad for a high-end model. In comparison, the Canon HF G10 needed just 2 lux of light to reach 50 IRE when we used its 24p record mode. That result simply crushes what the Sony HDR-CX700V is capable of in low light.
In Sony's defense, the HDR-CX700V does have two low light modes. The first is called "low lux" and it uses a combination of a slow shutter and a gain boost to enhance low light performance. The second is "Nightshot," which is a feature that isn't found on many other camcorders besides Sony products (there are nightshot adapters out there, though). It uses infrared technology to allow you to record in total darkness— but all your footage comes embossed with a bright green glow, of course.
Low Light Noise
The HDR-CX700V averaged 1.1% noise in our low light test, which is a solid score, but is slightly worse than the competition managed. When you score that well, however, we don't consider noise to be much of an issue. You can see for yourself in the crops below, as we don't see much noise in the Sony HDR-CX700V's image (and the same goes with the models we compared it to). More on how we test low light noise.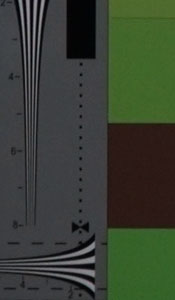 Low Light Color
The HDR-CX700V took a dip in color accuracy when we dimmed the lights for the low light test. The camcorder measured a color error of 5.37 and a saturation level of 70.72%. These numbers are a little bit below average for a flagship model, but they are still respectable. The good news is that they are better than last year's HDR-CX550V by quite a bit. The new Sony camcorder has more vivid and accurate colors than the old. More on how we test low light color.
Low Light Color Accuracy Performance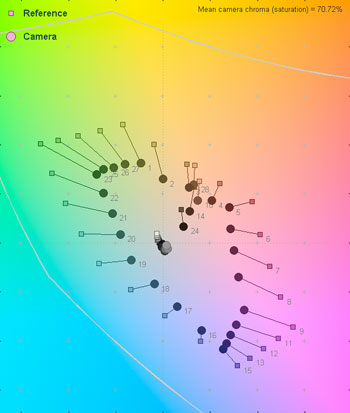 Color Error Map
The map above is a diagram of the color error. The length and direction of each line indicates how the camera processed each particular color while capturing video.
The Sony Handycam HDR-CX700V produced a color error of and a saturation level of in our bright light color testing.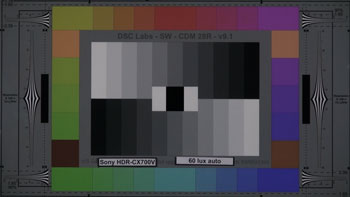 We like the Canon HF G10 and Panasonic HDC-TM900 more as far as color in low light is concerned, but the Sony HDR-CX700V isn't that far behind. Its colors look good, if a bit weak, and the camcorder was able to retain a decently sharp image in low light. Many of you readers are probably aware that the HDR-CX700V has a 24p mode in addition to 60i and 60p recording. We did some testing of the 24p mode in low light, but we saw little difference in our color accuracy or noise tests when using this mode.