Sony HDR-CX700V Camcorder Review

Recording Options
Compression
For most HD recording on the CX700V, the camcorder uses AVCHD compression. AVCHD is the standard for consumer HD camcorders and it is becoming extremely common. Most editing programs will work with it, but the files are large and require a powerful computer to work with if you're doing extensive editing. Sony is one of the few manufacturers to include standard definition record modes on its HD camcorders. So, if you don't need the high-quality of HD, you can capture videos that are far smaller and easier to edit by switching the cam over to SD record mode.
We say the CX700V uses AVCHD compression "most" of the time because the camcorder's 1080/60p mode uses an original compression system that is based on the MPEG-4 codec (the same thing AVCHD is based on). AVCHD cannot handle 1080/60p recording, hence the reason Sony uses this proprietary original format. This is the same thing Panasonic had to do with its 1080/60p mode on last year's HDC-TM700 and this year's HDC-TM900 models. The problem with this format, and this goes with the Panasonic models as well, is that the resulting video is not compatible with most editing programs. In fact, we had a number of programs—specifically iMovie and Final Cut Express—crash whenever we tried to import 60p footage from our HDR-CX700V.
The problem was actually even worse: we couldn't even connect the camcorder to a computer when it had 60p and 60i footage on it. The software we used (iMovie and Final Cut Express) would only recognize the footage if no 60p clips were contained on the camcorder's internal memory. This is yucky and disappointing, but we're not surprised either. 1080/60p recording is new, there's a lot of bugs with compatibility, and it is going to take time before manufacturers all get their act together and smooth things out. Read more about the advantages and disadvantages of various high definition compression types.
Media
If you've got a thing for flash memory, then you'll love the Sony HDR-CX700V. The camcorder is loaded with 96GB of internal flash memory, and a dual-format memory card slot that works with both SD and Memory Stick cards. To be specific, the card slot works with Memory Stick PRO Duo and Memory Stick PRO-HG Duo cards, as well as SD/SDHC/SDXC memory cards. The card slot is located inside the LCD cavity, behind a sliding door that also covers the USB and HDMI ports.
This gives you a ton of media options to work with, and, honestly, the 96GB of internal flash memory will take you a while to fill unless you're shooting tons of HD video at the highest quality settings. If you're the kind of person who doesn't like to backup your footage to disc, computer, or hard drive, the HDR-CX700V's multitude of media settings may be right up your alley. Read more about the advantages and disadvantages of various media types.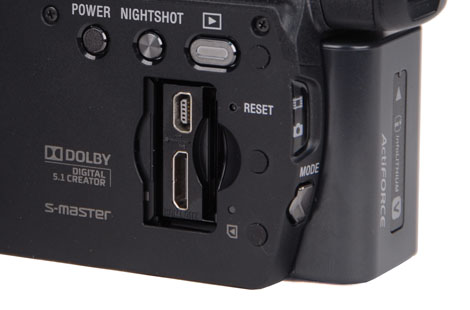 Still Features
Like most camcorders, the Sony HDR-CX700V has a dedicated still image mode for taking photos with the camcorder. You can access this mode by selecting it from the menu system (under the Shooting Mode submenu), or by pressing the small mode button on the back of the camcorder. The mode button only switches between video and photo modes, it does not allow you to enter other shooting modes (like Golf Shot or Smooth Slow Record), nor will it bring you to playback mode.
When you look at photo size options on the camcorder, you'll notice the highest quality setting is a 12.3-megapixel photo option. This setting exceeds the CX700V's effective pixel count for still images, which is 6.14 megapixels. However, Sony claims that the "unique pixel array of Sony's ClearVid and the image processing system (BIONZ) allow still image resolution equivalent to [12.3 megapixels]." Basically, we take this statement to mean Sony is interpolating the images in order to capture them at that size. The amount of pixels in those 12+ megapixel photos, will still be 6.14 megapixels (or around that). Other photo options on the CX700V include a 9.2 megapixels, 3.3 megapixels, and VGA. All of these size options, other than the 12.3-megapixel mode, capture photos at a 4:3 aspect ratio.
Enough of this pixel jargon. The Sony HDR-CX700V has plenty of other still image features worth talking about. There's a built-in flash on the front of the camcorder, and the flash has a number of intensity settings and red-eye reduction. The face detection feature can also be used to detect smiles, which leads us to Sony's "smile shutter" technology. This allows the camcorder to automatically take photos when it detects a smiling subject. It doesn't work perfectly, but the mode even allows you to set the smile sensitivity for which the camcorder to detect (low, medium, or high).