Sony HDR-PJ710 Camcorder Review
$1,299.00
Better than
95%
of Reviewed Camcorders

Ease of Use
Auto Mode
The dedicated auto mode on the HDR-PJ710, which is called iAuto, works just fine. But our problem with the mode is that it's not that easy to find, and that's been the case for a few years now on Sony's Handycams. Gone are the days of a dedicated "Easy" button on the camcorder itself, and in its place is a tiny iAuto button on the lower right of the touchscreen. But even that button only appears when you tap the screen to bring up the onscreen display!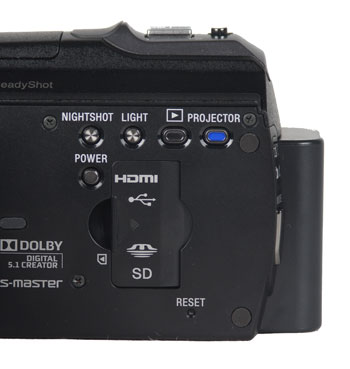 Auto Controls
The automatic controls themselves don't have much to complain about. Focus and exposure are adjusted extremely quickly and quietly, in fact the adjustments may be a bit too fast for some people. Auto white balance sometimes took a few seconds to calibrate properly, but the PJ710 usually handled scenes just fine after a few moments. The 10x optical zoom focus is easy to set with the slider on the top of the camcorder, and we had no problem getting the variable zoom to go the speed of our liking (by applying more or less pressure to the toggle). There's also a 120x digital zoom if you want even more zoom on the camcorder, but using this will deteriorate your image quality.
Other Auto Features
If you'd like to venture out beyond the dedicated auto mode on the PJ710V, you'll find that there are plenty of extra auto modes you can play with. These controls require some kind of user input, but some are as simple as turning them on or off in the menu system. There's the spot meter and spot focus function, which lets you tap the part of the screen you want to focus and expose properly, and there's an auto back light setting that should help illuminate subjects with a strong backlight.
In low light situations, you can turn on the Low Lux setting to boost the brightness of your image. This will turn on a slow shutter (1/30 of a second) and increase gain, so you will notice more noise and a blurred image due to the slower shutter (but it will certainly be brighter). The camcorder also has face detection and a smile shutter feature that will automatically take photos when a smile is detected within the frame.
Menus
Sony revamped the menu system on its Handycams a while back, so if you're familiar with any of last year's Handycams then you will recognize the menu on the HDR-PJ710V. The menu is clean and modern, but it's not the simplest to use. If you're comfortable working with a small touchscreen, like those on older cell phones, then you will probably be fine with the PJ710V. The screen's small size makes icons and navigation controls difficult to press, especially if you have large fingers. But, again, the menu looks pretty and has a good amount of help text to give you an idea of what each control does. It's also organized into six submenus to help keep similar options clumped together.
One new option is the My Button feature that lets you pick three menu items and put them as shortcuts on the LCD. As far as we can tell, you can select any menu option for this: from manual white balance to flash controls to GPS on/off. We like this mini-customization feature, although we doubt many users will actually ever use it (or change the My Button options from its original default settings).