Sony HDR-PJ710 Camcorder Review
$1,299.00
Better than
95%
of Reviewed Camcorders

Recording Options
Compression
The AVCHD compression system used on the Sony HDR-PJ710 allows for progressive recording, so it's official name is AVCHD 2.0 or AVCHD Progressive. It's the same system used on previous Sony Handycams, but since the PJ710 has an option for 1080/60p and 1080/24p recording, Sony had to implement the updated system to keep the camcorder AVCHD compliant. This is the same compression system used on Panasonic camcorders that offer 1080/60p recording as well. Read more about the advantages and disadvantages of various high definition compression types.
Media
32GB of internal flash memory is included on the Sony HDR-PJ710V, which is enough to capture a couple hours of video at the highest quality setting. If you want to record more video, you can load a memory card (SD or Memory Stick PRO Duo) into the camcorder's memory card slot. Read more about the advantages and disadvantages of various media types.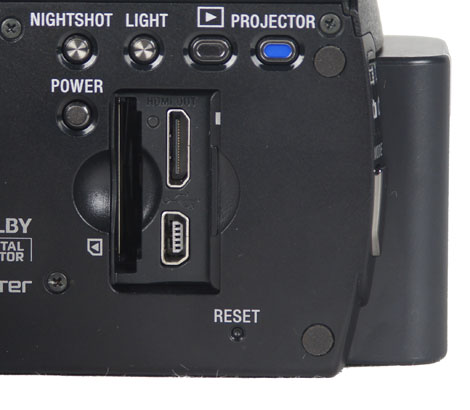 Resolution & Frame Rates
The Sony HDR-PJ710 can record Full HD video using 60i, 60p, or 24p frame rates (in various different modes). Only the highest-quality setting allows for 1080/60p recording, and some of the lower-quality modes record a 1440 x 1080 stretched image instead of Full 1920 x 1080 video. The camcorder has a single standard definition mode as well. This is a good set of recording options for a consumer camcorder, and Sony impressively covers all the important bases. The only significant modes that are missing are a 720p HD option and a 30p frame rate.
Slow Motion Modes
The PJ710 has Sony's classic Smooth Slow Record function, which is a basic slow motion mode. Smooth Slow Record uses a 240fps frame rate that allows you to capture three seconds of footage and turn it into 12 seconds of slow motion video. Quality isn't great and the three-second limitation is a bummer, but the effect is cool. You also have the option of setting Smooth Slow Record to capture the three seconds of footage before or after you hit the record button.
Still Features
Sony's spec sheet for the HDR-PJ710V has some misleading information about the camcorder's still image capabilities. According to Sony, the max effective resolution for photos on the PJ710V is 24.1 megapixels—but this number far exceeds the image sensor's gross pixel count of 6.65 megapixels. What this tells us is that the PJ710V is interpolating its still images. The camcorder will capture a roughly 6-megapixel image, then stretch it to a huge 6544 x 3680 image. And just because the image is that big, doesn't mean it has tons of detail. So, in reality, the 24.1-megapixel mode isn't nearly as good as it sounds.
All that garbage aside, the HDR-PJ710V does have quite a few still image features. There's a self timer function, a built-in flash (with intensity settings and red eye reduction), six different photo size options (three of which are "interpolated"), and the ability to capture still images during video recording. Sony's Smile Shutter feature, allowing the camcorder to automatically snap photos when it detects a human smiling within the frame, is also included.