Sony Handycam NEX-VG20 Camcorder Review
$2,199.00
Better than
92%
of Reviewed Camcorders

Ease of Use
Auto Mode
If you're looking for that easy mode or "intelligent auto" mode that are found on other Sony Handycams, you're not gonna find it on the NEX-VG20. This doesn't mean the camcorder has no auto controls, it most certainly does, it just doesn't have that dedicated switch to bring all controls back to auto. The closest thing to an auto mode button on the VG20 is the Program AE switch inside the LCD cavity. This button reverts all exposure controls (iris, shutter speed, and gain) to auto control, but it doesn't do anything to focus, image stabilization, or any controls not related to exposure.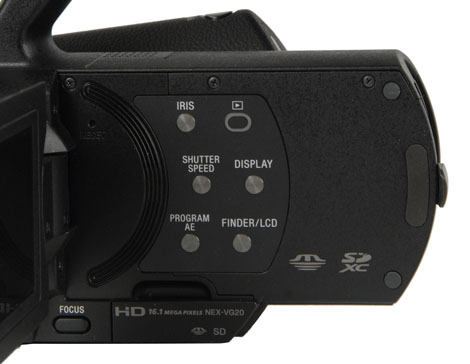 Auto Controls
The thing is, the NEX-VG20, like any good prosumer camcorder, doesn't really need a special auto mode to succeed. The brilliance of the camcorder lies in its manual control options, and it's likely that is the very reason you'd be using the VG20 in the first place. No dedicated auto mode lets you pinpoint the controls you want to set manually, while leaving other controls under auto control.
Those who are hoping to rely on the VG20's automatic functions may come away disappointed, however. The camcorder doesn't focus as fast nor as accurately as a traditional camcorder, and if you go outside of Sony's E-mount lens family there's no guarantee that the autofocus mechanism on the camcorder will even work properly with the attached lens. Auto exposure was handled with more accuracy than focus, and the camcorder did a decent job when we shifted between various lighting conditions. The color temperature changed a lot when we shot under mixed light with the auto white balance turned on, so if you don't want that kind of color shifting you should lock down a manual white balance or use one of the two preset WB options.
Other Auto Features
The few extra auto features on the VG20 include three spot functions (spot focus, spot exposure, and spot focus/exposure), an AE Shift setting (bump the auto exposure levels up or down), an auto backlight option, and face detection.
Menus
Maybe it was the improved response of the touchscreen interface, or maybe it's just the way Sony's organizes its menu options, but we found the NEX-VG20's menu system rather easy to work with. And, for a camcorder geared towards pros, the amount of menu options is surprisingly concise. Most important controls are available for access on the fly, either through a dedicated button or by holding down the Manual button near the front of the camcorder, and the six submenus in the VG20's main menu system makes it fairly easy to find what you're looking for. Our only issue was that the buttons to scroll menu pages up and down were a bit too small for our fingertips. A slightly larger screen would help.