Sony Handycam NEX-VG20 Camcorder Review
$2,199.00
Better than
92%
of Reviewed Camcorders

Recording Options
Media
There's no internal memory on the NEX-VG20, so you need to buy a memory card before you can record video with the camcorder. The memory card slot works with all types of SD memory cards (SDHC and SDXC included) and it works with Sony's own Memory Stick PRO Duo memory cards. Sony recommends using a class 4 or faster SD card when shooting video with the camcorder. Read more about the advantages and disadvantages of various media types.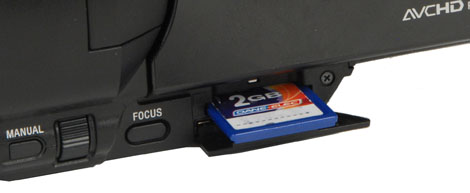 Resolution & Frame Rates
In addition to 1920 x 1080 Full HD recording, the VG20 has two 1440 x 1080 recording options and one standard definition record mode. The 24p frame rate is available in two of the record modes, while the 60i frame rate can be used in any mode (except for the 1080/60p PS mode).
Still Features
The VG20 may be part of Sony's Handycam camcorder line, but inside it has the guts of a Sony NEX camera. Its APS-C image sensor is much larger than the CMOS imager you'd find in a traditional camcorder. In fact, it's the same size sensor that comes in Sony's NEX-5N camera. This sensor, combined with the fact that the VG20 can use any lens from Sony's E-Mount family, makes the NEX-VG20 capable of taking excellent photos.
The camcorder is still designed to shoot video, though, so the VG20 does lack some of the controls and features you'd expect to see on a standard DSLR or compact system camera. You will still find the basics though: a continuous shooting mode, exposure bracketing, a self-timer, even the ability to shoot photos in the RAW format (JPEG and RAW & JPEG options are also available). Manual controls that are available in video mode, like aperture, shutter speed, gain (ISO), and white balance, are all available in photo mode as well.
As for still image resolutions, the NEX-VG20 has about the same options as you'd expect to see on a camera that is dedicated to photography. The camcorder has three size options that shoot with a 3:2 aspect ratio, including the VG20's highest-res 16-megapixel setting, and it has three 16:9 photo sizes (with the highest being 13.6-megapixels). Photos can also be captured from videos in playback mode, and you can capture still images during recording.